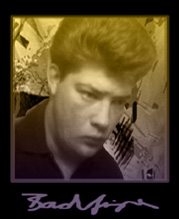 ∗24.09.1977-♥22.12.1998
†24.06.2008

GO TO HELL
Go to hell, and see What's like being in this world Go to hell, and feel, The flames bitting into your heart, Go to hell, and understand, We have not much time, in this forgotten land, So be clever, make your stand, or, The darkness comes, swallows you. Go to hell, and make them understand, We are all the same, evil and good, It's all about consequences, About rfighting your own thoughts, And make all understand....
Samstag, 26. November 2022
Seite:
Gedichte
User online:
1
Heute:
8
Gestern:
59
Gesamt:
15905
seit 25.10.2011
Statistik zu
GO TO HELL
... just a feeling ...
Kategorie: Gedicht
Erstellt von: Badfinger
Veröffentlicht am: 20.11.2004 14:04
Geändert am: 26.06.2005 14:51
1548 views
bis Oktober 2007
Seit 25.10.2011
2452 views
Kommentare (0)