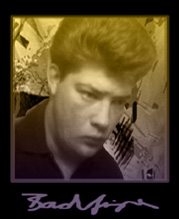 ∗24.09.1977-♥22.12.1998
†24.06.2008

RAIN
There he stands, in the middle of nowhere, Rain is dropping, everywhere, He has no hope, his eyes shine into the world of desperation, His hair is red, like the blood that he has seen, The world is raining down on him. Rain, always rain in his heart, When she kissed him, When she said good bye, It was time, Rain came, He had to cry. So he's the last raining man, In a world of pain and sorrow, Where is only the raining tomorow.
---
Veröffentlicht auf www.literaturzone.org
Rain / 05.05.2004 / Gedicht Herz-Schmerz
Bewertung/Kommentare
Montag, 26. Juni 2017
Seite:
Gedichte
User online:
1
Heute:
52
Gestern:
32
Gesamt:
13757
seit 25.10.2011
Statistik zu
RAIN
When you stand in the rain...
Kategorie: Gedichte
Erstellt von: Badfinger
Veröffentlicht am: 14.04.2004 22:32
Geändert am: 27.06.2005 10:43
1529 views
bis Oktober 2007
Kommentare (0)